We Have The Latest Technology And Advances In Covina Water Damage Restoration
4/12/2019 (Permalink)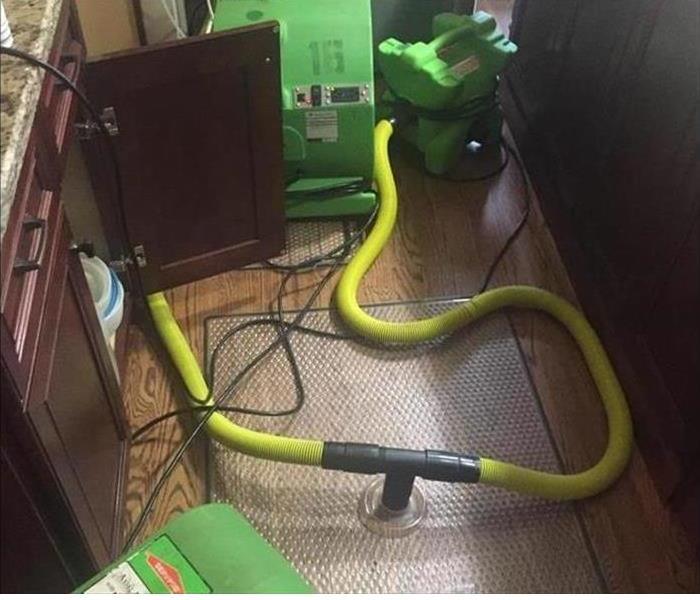 We have specialized tools such as the suction mat which will suck water from the cracks in the joints of slat flooring.
How Correct Use of Water Removal Methods Protects Homes in Covina
When high humidity exists inside a home, wood floors can become damaged. This damage can present itself in several ways. Slight damage often shows up as boards cup or drown, depending on the location of the moisture affecting the flooring.

SERVPRO technicians carefully apply water removal techniques to protect wood floors in Covina properties, as over-drying of the boards in a wood floor can also create additional problems. When cupping or crowning show up on a floor, we can tell by looking at them where the hidden moisture exists.

When boards become higher on their edges, the floor suffers from cupping. We can resolve this with sanding that reduces the height of the sides without creating a possible problem when the humidity in the area falls back to a lower amount. Cupping can happen when humidity becomes trapped underneath a floor. Sanding eliminates tripping hazards while also keeping the floor from suffering from possible over-drying, which can crack the boards.

Crowning, the opposite of crowning, occurs when water rests on the surface and penetrates the wood. We can more easily perform water removal methods in this type of situation by drying the surface. Because the bottom area of such boards remains closer to the desired moisture level in most cases, we do not need to perform more extensive work. Also, sanding in this type of situation can create damage that only appears when the floor becomes dry again. We never sand a floor that exhibits crowning.

Because warped wood signifies unwanted and harmful dampness, we do need to dry the affected area slowly. Rapidly drying can lead to problems, as well as misdirected air flows. We take care to not over-dry the bottom area. However, we do use moisture detection units to determine if moisture is present in the underlay of the flooring. If so, we can carefully dry this with mats that extract moisture from that area while continually monitoring the progress.

SERVPRO of Azusa / Covina wants to provide homeowners in the Covina area with services based on the latest technology and advances in restoration and mitigation technology. Call us for water removal and drying professionals who apply IICRC-approved methods in protecting your residence. Our 24-hour services line, (626) 387-4111, is always available so we can provide you with the additional information you need for your unique situation.
Click here to register for Spring 2019 youth sports.