Call Us Right After A Storm Has Occurred In Your Covina Home
8/14/2019 (Permalink)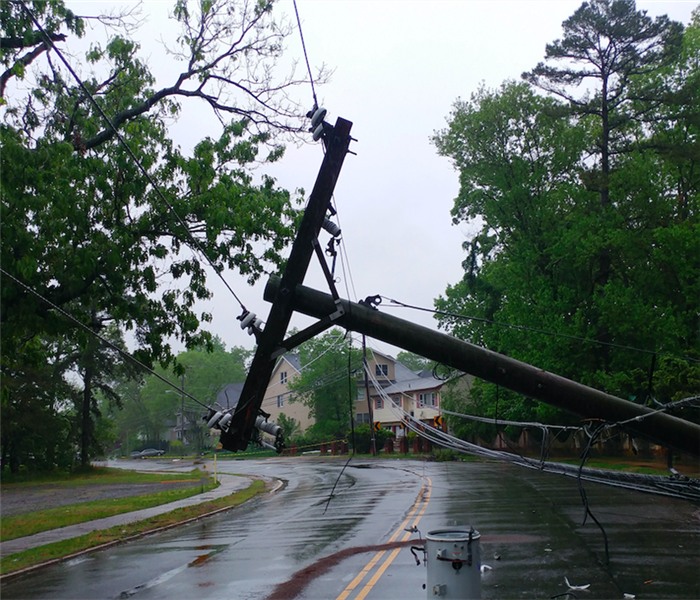 If storm damage has occurred make sure you take action fast. Call the professionals at SERVPRO today for remediation assistance.
Hire Experts to Mitigate Storm Flood Damage in Your Covina Home
Shifting weather patterns have caused record-breaking rainfall amounts and storms that cause flooding in many parts of the nation. Water, wind, downed trees, and hail are some of the things that can damage your Covina home. Floodwater can leave you with damaged drywall, furniture, flooring, and clothing, among other items.
When your Covina residence has storm flood damage, you need to act quickly to minimize the damage, protect your possessions, and restore the property. That means working with a reputed restoration firm like SERVPRO. We can arrive fast to your property and get to work immediately to clean it up. We offer immediate services that can secure your property and prevent further destruction from occurring, such as boarding up openings and tarping a ruined roof. This can protect your house from the elements and intruders.
Our Water Damage Restoration Technicians (WRT) use portable pumps or wet/dry vacuums to extract standing water from affected surfaces. Water can flow into seemingly unlikely places and cause future problems if it remains undetected. We can identify all damp materials through moisture inspection that involves using moisture detection devices such as:
Mold is also an issue when water gets into a home. Although mold is useful for breaking down dead matter in nature, it is not something you want growing in your home. After water intrusion incident, it takes only 24 to 48 hours for mold to grow on water-logged items like drywall, upholstered furniture, clothing and draperies, ruining them in the process. It can also cause health issues for the people living in your home. We can dry your home and its contents thoroughly to prevent mold infestation.
If your home has hardwood floors or plywood subflooring, determining if they are dry can be difficult. Often, a padding layer is present between the subflooring and other flooring materials like carpeting. The padding layer can trap water, leading to more water damage. Wood floors that remain damp for lengthy periods can sustain permanent damage. Our technicians can reduce the relative humidity in your home and then position air movers strategically to apply airflow on top of and below the wood floor. Our drying strategy for wood floors concentrates on preventing cupping, buckling, or warping from becoming permanent.
Our SERVPRO technicians also have expertise in dealing with black water that could contain pathogens, animal, and human waste as well as pesticides. We can remove and discard porous items like the carpet and pad to decontaminate your house. Our technicians also disinfect affected surfaces using EPA registered disinfectants.
Restoring a home after storm flood damage can be a tiresome and time-consuming process. That's why you should call SERVPRO of Azusa / Covina for help. Our emergency helpline is (626) 387-4111. We have the workforce, equipment, and experience to make the destruction seem "Like it never even happened."
Click here to learn more about Covina.