How We Remove Soot and Smoke Particles after Fire Damage
4/30/2020 (Permalink)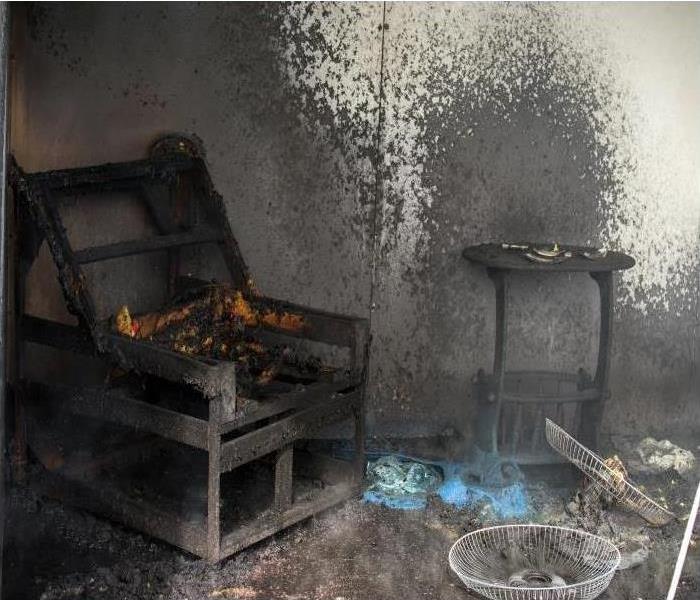 SERVPRO of Azusa / Covina rapid response team to arrive quickly with the personnel and equipment to make a difference
No matter how small or huge a fire damage incident is, the smoke and soot that results can cause damage to your property. The various soot or smoke particles that need to be cleaned off your property are reliant on the type of substances that the fire consumed. Soot is usually produced when incomplete combustion takes place and depending on what the fire burned it can contain a mixture of dust, soils, metals, chemical and even acids. It is small in size and can float in the air and travel throughout your Covina property.

The smoke particles that a fire produces in your Covina home can contain ash, oils, tar, carbon, and different kinds of chemicals. Our technicians perform appropriate cleaning and restoration procedures to prevent secondary damage. The soot and smoke particles which float in the air may lead to health effects, which is why our team uses appropriate personal protective equipment such as full-face masks, goggles, gloves, and footwear when carrying out restoration procedures.

Our local technicians use advanced equipment to make work efficient. For instance, we can install dehumidifiers to address the moisture problem that results from the water that was used to extinguish the fire. We have the skills of determining what is salvageable and removing the unsalvageable items from the building. When we are removing smoke and soot particles from a carpet, we avoid impact when it is likely to embed the particles into the materials. For instance, we use HEPA vacuuming to lift the particles from the surface. For efficient results when we are using HEPA vacuums, we make sure there is a considerable distance between the nozzle and the surface.

Fire incidents are associated with odor problems. We must identify and remove the odor-causing particles, or our fire damage restoration technicians perform processes such as thermal fogging as a way of addressing the odor problem. Deodorants that can neutralize the odors are emitted into specific areas.
Air Purification Is Critical For Fire Damaged Covina Homes
After a damaging fire in your Covina home, there are threats present even in the atmosphere that a homeowner and their family need to monitor from a distance. Indoor air quality concerns can allow for respiratory concerns from lingering smoke, airborne debris and dust, and soot particles. Overcoming these effects is almost impossible for a homeowner to handle on their own, but our professional restoration team has equipment and expertise to remove this potential hazard.

When you consider all of the ways that fire damage in your Covina property can present itself, many homeowners might find themselves most concerned with structural elements and less about airborne threats. However, with the combustion of multiple materials including plastics, aerosols, chemicals and more commonly found in the average home, this environment could be dangerous to breath unfiltered. Our technicians have experience and training with the use of a full range of personal protective equipment from respirators to SCBA tanks for initial mitigation work when we first arrive at a fire-damaged property.

These threats only get more exasperated with the removal of debris and damaged components from the property in the earliest stages of restoration. Controlled demolition and cleanup by our specialists can circulate more smoke residue, debris, dust, and even harmful organic compounds present in the air to cause potential health risks to those exposed without breathing protection.

We set up and begin using hydroxyl generators and air scrubbers as soon as possible to begin filtering out harmful substances and particulates in the air. The HEPA filter installed in the machines can trap even microscopic debris, improving the air quality more the longer that these machines continue to run in the affected environments.
These 3 Specialty Cleaning Agents Help Us Handle Fire Damage In Covina Homes
Many aspects of fire damage in Covina require more power than other household messes to clean up and remove safely from your home. While technicians sometimes make use of conventional glass and surface cleaning products, specific circumstances may require us to bring out more specific chemicals and cleaning agents that are designed for a specific task and purpose. Depending on the extent of the damages and what specific parts of your home the fire has impacted, we may need to use some of these cleaning agents in addition to more generalized solutions.

Strong Acid Cleaners
Some residues from a fire damaged home may be best treated with the use of strong acid cleaners. These products are highly effective at washing away soot and ash from rough surfaces, and can even remove longstanding mineral deposits that may be unaffected by any off-the-shelf cleaning supplies. However, these chemicals can be hazardous without appropriate protective equipment and may cause damage to some surfaces in your home, so only certified SERVPRO technicians should apply them.

Liquid Creme Cleaners
Some of the most useful equipment in our arsenal of cleaning supplies are our liquid creme cleaning agents. These mixtures contain both standard cleaning products and small, mildly abrasive particles that can remove many types of stains and residues from hard and smooth surfaces in your home. These cleaning agents are especially useful for kitchen fires thanks to their ability to stick to smooth vertical surfaces without damaging them.

Wood Creme Cleaners
Similar to liquid creme agents, wood cremes are mixtures of cleaning chemicals and tiny particles that can scrub away smoke residues and other particles. These cremes, however, are much more gentle than most cleaning agents, making them one of our most effective tools for wood surfaces and smoke-damaged appliances that may be sensitive to other chemicals and cremes.

SERVPRO of Azusa / Covina has every cleaning agent and tool you can imagine to help you recover from a house fire as quickly and smoothly as possible. Call us at (626) 387-4111 for our 24/7 services.
Click here for more about Covina.