Tips for Homeowners About Hazards After a Flood
5/3/2020 (Permalink)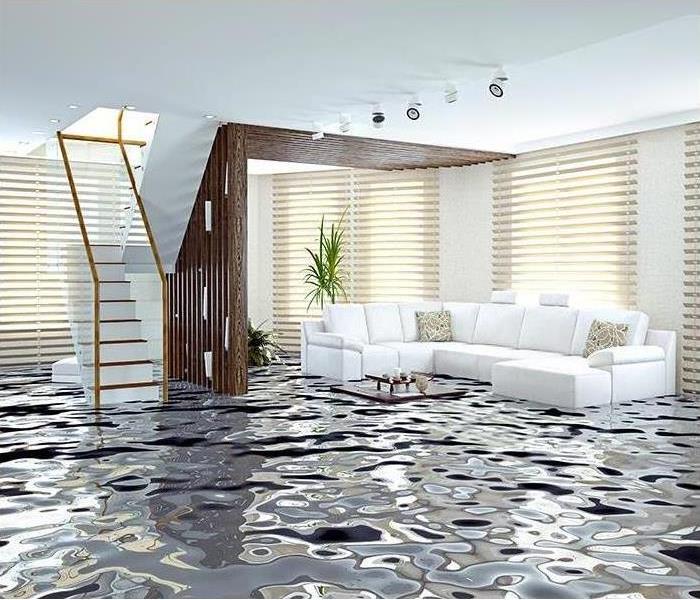 Call the Professionals at SERVPRO When A Flood Causes Significant Damage to Your Azusa - Covina Home
Understanding Your Flood Hazard After a Flood Damage in the Covina/Azusa area.
Even though we have the best meteorologists and weathermen to report when a storm or a hurricane is coming, but we cannot stop them from entering our establishment. It can be frustrating knowing that you cannot blow hazardous weather away from your location. All you can do is evacuate and make sure that everybody is safe. The most challenging part about flood damage is dealing with the aftermath. It can be stressful thinking about the extent of the issue. If you understand the flood principle that you should consider in determining your residential area exposure, you might be able to mitigate the issue.

You can predict the extent of the flood damage in the Covina location by knowing the flood principal. It is essential to understand that flood water is expected to recede quickly. Keep in mind that the longer the area is in the flood damage, the more costly the repair would be. Another thing is that any flood that is greater than 3 feet can create a hydrostatic pressure on the walls. This pressure can lead to cracks which can result in a significant collapse or destruction of the foundation of your home. When you measure the depth of the flood water, it is best to include a safety factor to account for any inaccurate or approximate estimation. Also, flood water is extremely filthy. They contain a variety of chemicals and microorganism. These floodwaters originate from sewage, pesticides, toxic chemicals, industrial waste, and wastewater. Because of these contaminants, it is essential to call in the expert to adequately disinfect your place.

SERVPRO restoration technicians specialize in restoring your home after flood damages. They can identify and eliminate offensive odors with advanced equipment such as industrial air scrubber or fogging tools. This equipment can get rid of persistent odors that are plagued by contaminant water. There are also sanitizing treatment such as anti-microbial, disinfect, and antibacterial. Because Flood water contains a lot of toxins and debris, it is crucial to call in the SERVPRO tech to adequately sanitized, clean, and deodorize your place after the flood damage.
What To Do After A Flood In Your Azusa Home
While you might understand that some disasters that affect your Azusa home are inevitable, how you respond to these situations determine the amount of money you tie up into restoration and how severe the damages get permitted to become. Our crew can respond quickly in the event of flooding in your home, giving you a better opportunity to protect the things that you value the most and offer effective mitigation solutions to prevent the damage from getting worse once we arrive.

Knowing what to do once flood damage has affected your Azusa home can be challenging, especially since a natural disaster like this comes with an overwhelming number of concerns. The best choice that you can make is to reach out to our team immediately at the first sign of flooding so that we can mobilize both our estimation department and mitigation team. This personnel can help to keep your restoration costs to a minimum and preserve contents within your home from irreparable damage from the rising waters.

Assessment of the damage on your own might seem like a good idea initially, but flooding can cause many structural concerns from weakening flooring to ceiling collapse. Your best choice is to wait until our local team arrives to provide an accurate inspection of the damage, complete with cataloging all the affected areas, materials, and items. We can provide this information to your insurance provider to help to get a claim approved for full restoration while our professionals continue mitigation work such as extraction and pack outs.

Our objective with our rapid response is to help homeowners to get their properties fully restored without excessive cost. We can even provide estimations of the work directly to you to determine on your own whether it is wiser to pay out of pocket for the restoration rather than covering a deductible and likely contending with a rate increase for the future.

Flooding is something that can affect area homes from time to time, but knowing what to do in these situations is critical to making the restoration as efficient as possible. Give our SERVPRO of Azusa / Covina rapid response team a call as soon as soon as flooding begins at (626) 387-4111.