Why SERVPRO for Fire Damage Restoration Services In Azusa
6/18/2021 (Permalink)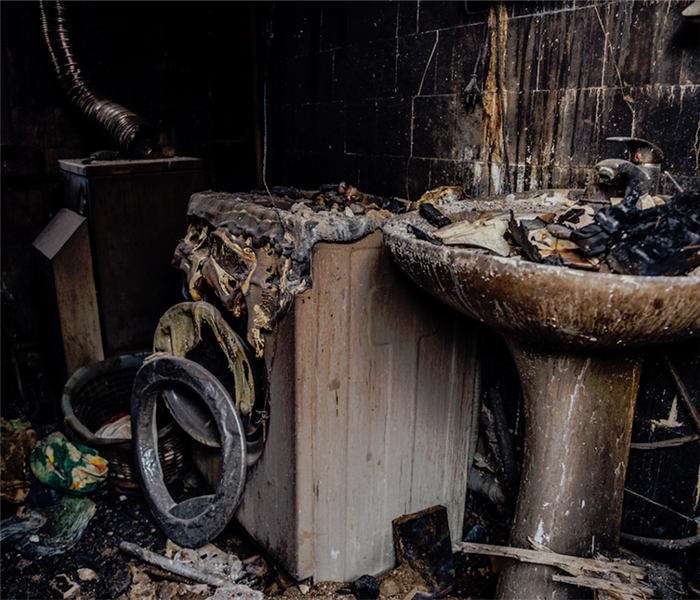 Fire damage in your bathroom is something that needs to be handled quite quickly. Talk to our certified technicians about remediation.
SERVPRO Offers Ancillary Services When Damage in Azusa Is Fire Related
You are busy running back and forth, getting ready for work, when a fire breaks out in your bathroom. After the authorities are finished dousing the fire, they explain that it started due to an electrical short in the socket where your hairdryer and curling iron plugged into the wall.

There are many different ways that fire damage can happen in your Azusa home. Some situations you can plan for; others are unimaginable until they happen. We find that every case is different and requires a unique solution; regardless, we are here to help.

What you are left looking at after a fire happens in your home may appear devastating. In addition to fire, heat, smoke, soot, and chemical residues, you are likely to see additional water damage caused by the type of suppression system you have installed or firefighting efforts themselves. This can create a particularly upsetting or destructive scene for you and your family to witness.

SERVPRO restorations services are designed to provide you with peace of mind during a trying time. We can assist you with finding temporary housing if your situation requires you to relocate until repairs are complete. While making all of the professional restoration services you need available to help return your property to a quality pre-damage condition and save as many of your belongings as possible.

Inspection and Assessment of Fire Damage
The SERVPRO team that arrives at your home performs an initial inspection and damage assessment to determine which services and equipment to deploy to address your situation properly. Once we have addressed all of your concerns and answered any questions you may have, we begin the restoration process.

Water & Fire Damage Restorations
SERVPRO IICRC-certified technicians go to work immediately, protecting your home. Your situation may require board-up and roof tarp services to prevent exposure to outdoor elements. Holes in your ceiling and walls, broken windows or doors, need the proper attention before moving on to our water removal services.

Our water restoration specialists remove any excess water on your property, while other technicians ensure that all of your household contents get moved to a dry, secure location for specific handling. We deploy various moisture detection, air moving, and drying equipment to avoid secondary damage from developing.

Contact SERVPRO of Azusa / Covina today; we always treat you and your home with care. (626) 387-4111