Covina Families Rely on Experienced Fire Damage Restoration Teams
1/5/2023 (Permalink)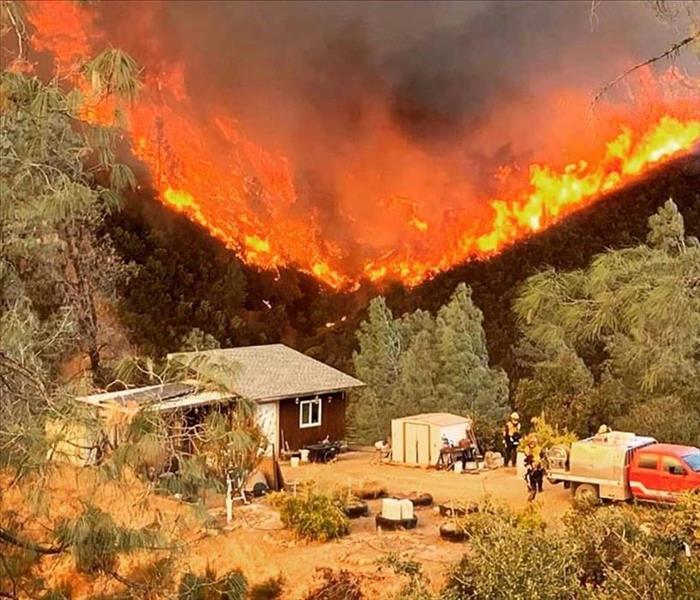 SERVPRO fire damage restoration services are the best in the business. Call us for fast and immediate service.
Making Houses Livable with Fire Damage Restoration
A fire can start in almost any area of your home. Covina residents often decorate for the winter months, and some of these newly placed items can play a role in a house fire. Additionally, the winter brings other challenges to a home that can require fire damage restoration services.
Electrically-powered decorations are only one seasonal fire risk facing homeowners in Covina. Our fire damage restoration crew works fast to make it all "Like it never even happened." Our ability to match your home's needs perfectly helps decrease the time involved and saves you money.
Fire can affect your home in different ways. SERVPRO's restoration services can handle all of them for you. Here are some aspects of a house fire that can make your home temporarily unlivable:
The odors now within your home,
Soiling from soot and other contaminants, and
Remnants of destroyed belongings.
Often, the lights do not function right after a fire, making the experience of checking on your property less visual and more of a scent-based experience. Air that is dense with soot can cause health effects, especially in more sensitive individuals. This type of odor clings to anything absorbent because it comes from the by-products of the fire. Part of our fire damage restoration work includes odor control.
Soot comes in two types – loose and powdery and oily and sticky. Both kinds end up everywhere, including on things brought into the home during cleanup. Distribution like that occurs because the powdery soot is fine enough to end up in the air, and the oily type sticks to everything that touches it. We use proven methods to get these removed from surfaces and the air and out of your house.
Fire spares very little, and a family's personal belongings often become casualties. Our crew members work in teams to sort through what is salvageable and what's not, all while making lists to keep you informed.
When your family experiences a house fire, call SERVPRO of Azusa / Covina at (626) 507-9438.