How to Know if You Have Water Damage in Your Irwindale Home
3/31/2018 (Permalink)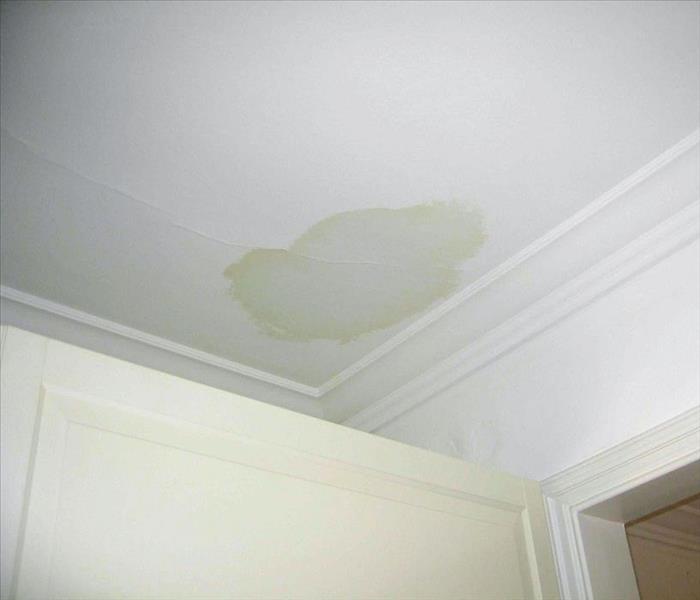 If you discover stains on your ceilings or walls, you should call the professionals at SERVPRO for water damage restoration services.
Call on SERVPRO If You Discover Water Damage in Your Home
Whatever might be the reason, water damage can spell a disaster if not handled promptly. A leaky faucet, a backed-up drain or a slow sink, all are signs of potential water damage. If you are not prompt in dealing with such incidences, the damage can get out of hand before you know it.
SERVPRO professionals are here to help you detect and fix any water damage to your Irwindale home. That said, the best chance of a successful restoration is when we spring into action at the earliest stage possible. The following signs indicate that you may have water damage in your home.
Stains on Walls or Ceilings
Stains on walls or ceilings are first to appear in the case of water damage. If you see any newly formed wet stain on a wall or a ceiling, it is time to seek professional help. The excessive moisture in the surfaces can prove to be breeding ground for mold and can cause secondary damage if not treated promptly.
Peeling of paint is also a good sign of water damage. Excessive dampness in the walls may cause the paint to peel off. If you are experiencing such a phenomenon in any of the rooms in your home, seek professional help.
SERVPRO technicians can help you identify and treat the cause of the staining and prevent mold damage as well.
Unpleasant Odors
Another sign of potential water damage is an unpleasant odor. If you have backed up drains, the water can stink, and you should be able to perceive that smell. Such incidences are more common in bathrooms, kitchens, and sinks than other places in your home. Such smells should not be ignored in any case. If you experience any weird smell in your house, call SERVPRO, our technicians can help you get to the bottom of the odor problem.
Obstructed Drains
Do you have a drain or a toilet in your home that keeps clogging? If the answer is yes, you need professional help. Repeated clogging can be a result of a more significant problem that needs to be eliminated at its source. Ignoring such incidences can lead to a bigger problem that may require more time and money to fix.
Call SERVPRO of Azusa / Covina at (626) 387-4111 to schedule an appointment and a free consultation.
Click here for more information on Irwindale.