Mold Damage Remediation for Your Irwindale Home
4/29/2018 (Permalink)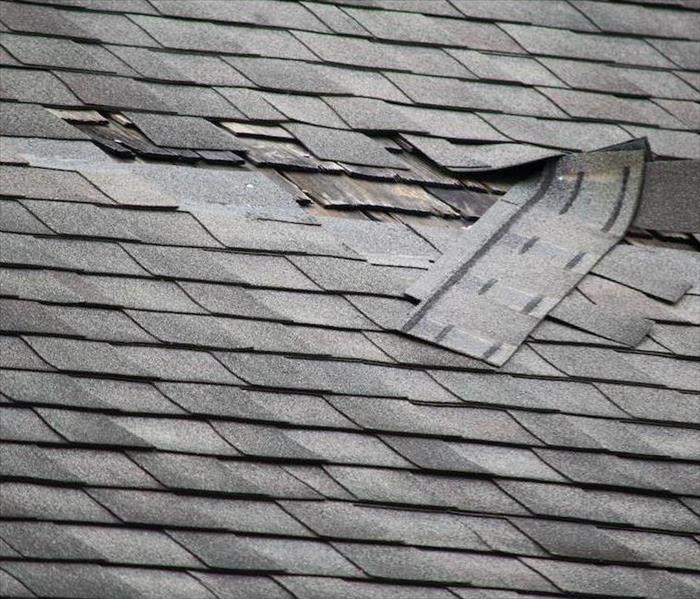 If your damaged roof was providing access to water into your attic, you could have a mold infestation. Contact SERVPRO to investigate and remediate.
SERVPRO Thoroughly Investigates a Mold Infestation in Your Home Before Starting the Customized Remediation Process
High winds and rains are a recipe for roof damage in Irwindale and can create a leak. Since you are likely not up in your attic that often, or at all, a roof leak can go undetected for a very long time. Mold, in the meantime, can start eating away at your roof decking, plus the structural beams that hold up your attic roof, the insulation, and anything else that is edible.

Mold needs moisture to be able to grow, and it does not take much time to begin – as little as a couple of days. When you realize there is mold damage in your Irwindale home, it is imperative that you act quickly. Mold continues to grow and eat away at materials of your structure until it is cleaned up. At SERVPRO, our staff has been trained to handle mold growth correctly, so you do not have additional damage.

Mold begins as a tiny spore which functions like a seed only smaller and more straightforward than actual seeds. A mass of mold spores can include thousands, but still be smaller than a pinhead. When something disturbs the mass of spores, thousands of mold spores are set free. Airflow carries the spores off, and they stay in the air until gravity helps them to settle. Very gentle air movement is all that is needed to lift spores again and keep them aloft.

The airborne spores eventually land and settle on a surface. SERVPRO staff understand how to clean these spores off of surfaces when possible. Spores are made for survival and might or might not start growing right away. Mold spores might lie dormant sometimes, waiting for the right conditions for growth.

Moisture makes spores swell as they absorb water. They start growing by sending out a network of structures, known as hyphae. Some hyphae might grow, like roots, into the material that is under the spores. Other hyphae spread out over the surface. Some can grow upright and make spores on top.

SERVPRO of Azusa/Covina is experienced at cleaning mold colonies so that we can take care of the growth in your home in Azusa, Covina, or Irwindale expertly. Give us a call at (626) 387-4111 when you realize you have an issue.

Click here for more information on the town of Irwindale.