SERVPRO Removes Soot from Surfaces after Azusa Fire Damage
3/13/2023 (Permalink)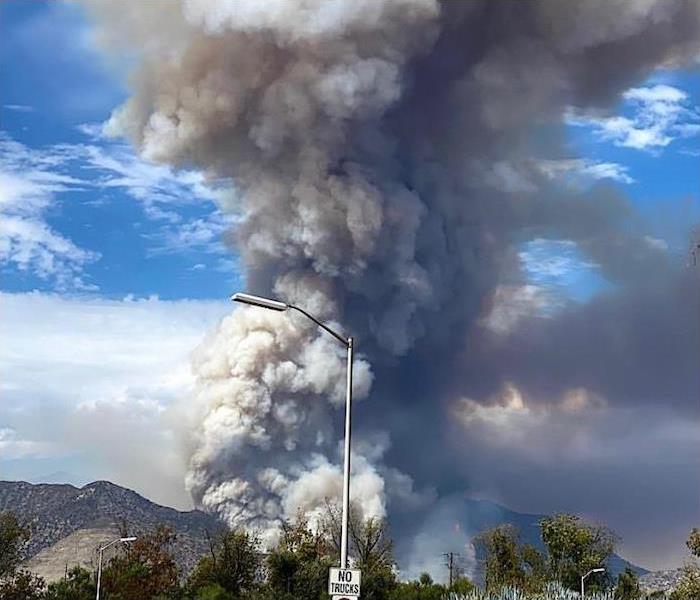 Fires are a devastating and destructive force. You can trust SERVPRO to restore your home in Azusa to its preloss condition.
Azusa Homeowners can Rely on Us for Thorough Fire Cleaning
Unfortunately, a house blaze can leave your home looking worse for wear. Smoke has a way of coating surfaces, so you are left with blackened walls, ceilings, and floors. Thankfully, SERVPRO is here to help.
Azusa fire damage restoration is a complex process. We must consider everything from the initial security and safety of the structure to cleaning and deodorization. We train our technicians to Institute of Inspection, Cleaning, and Restoration Certification (IICRC) standards. You can rest assured our teams have a thorough understanding of cleaning products and processes.
What Does Fire Damage Restoration Include?
Fire damage restoration is a carefully-planned process to return your home to its preloss conditions.
Our teams arrive promptly and start with assessing the situation. We look at:
How far the smoke damage has spread
What kind of residues does the fire leave behind
Whether there are any safety issues
Soot migrates from hot areas to cold, which means soot damage to your home can be extensive. Your home might also suffer structural damage during the fire, so we must secure the site before beginning restoration. We can tarp up the roof, board up windows or doors, and clear dangerous debris. We equip our teams with personal protective equipment to ensure safety throughout the fire restoration process.
After assessing the situation, we decide on the best methods to restore your home. We keep our customers informed throughout the restoration, so you know what to expect and in what timeframe.
After we clean and restore fire-damaged structures and contents, we deodorize your home to get rid of the smoky smell.
How Does SERVPRO Clean Soot Damaged Surfaces?
The key to successfully cleaning soot-damaged surfaces is understanding which cleaning products and methods best suit the situation.
Simple abrasion (scrubbing) combined with the use of powerful HEPA vacuums can loosen and shift dry soot odors. We also use industry-standard cleaning products:
General surface cleaners
Heavy-duty cleaners
Wood Crème cleaners
Strong acid cleaners
General cleaners, such as Wall and All Surface Cleaner, are suitable for most painted and washable surfaces. We can use them to clean walls, ceilings, and appliances. Heavy-duty cleaners can help shift greasy soot residues but are unsuitable for highly polished surfaces. Strong acid cleaners are suitable for cleaning fire damaged wood and brick, such as an open brickwork fireplace or a basement with exposed brick walls.
Not every surface is suitable for wet cleaning. We can also use dry cleaning methods, such as dry cleaning sponges. These are not your average household cleaning sponges. They are rubber sponges designed to clean via a combination of friction and absorption. Dry sponges are suitable for cleaning up fire damage, although it takes some elbow grease to erase soot from surfaces this way.
Sometimes, the best way to clean smaller items such as kitchen equipment or toys is to immerse the item in a solution. Our ultrasonic cleaning machines use sound waves to create millions of tiny bubbles, which dislodge residues as they burst. Ultrasonic cleaning penetrates deeper than simply soaking in water.
If you are worried about the effects of fire damage, do not delay. Call SERVPRO of Azusa / Covina at (626) 387-4111. We're Faster To Any Size Disaster and can arrive at your home within hours of your call.