Remediating Mold Damage in Azusa Homes
3/13/2023 (Permalink)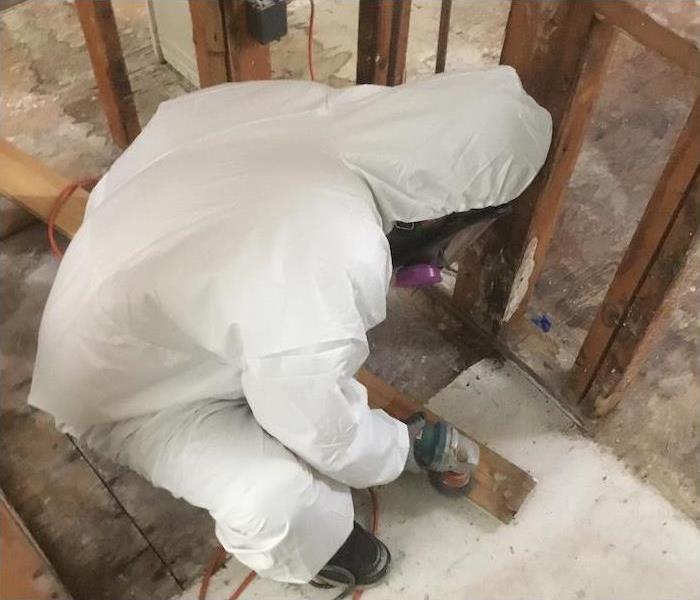 Mold can spread in 24 to 48 hours. Call SERVPRO for mold damage remediation services at your property in Azusa.
SERVPRO Tackles Mold Remediation Throughout Your Home
It is not always easy to spot fungus in your house. Sometimes you see a colony of mold that appears as a dark patch of fungus. Other times, your first clue is a distinctive moldy smell.
SERVPRO is available to remediate the mold damage in your Azusa home. Even a tiny patch of fungus can release spores that become airborne and find other places to grow in your home. That is why it is better not to wait: Call us as soon as you suspect a problem so we can get to work.
How Do We Prepare for Mold Remediation?
The initial inspection and scoping of the service are crucial so that our IICRC technicians follow the proper guidelines for mold remediation.
Assessing the Damage
Upon understanding the issues with mold cleanup, we may erect containment barriers constructed of poly sheeting, tape, and tension poles to isolate mold spores, dust, and debris. This step is essential if a controlled demolition is required to remove non-salvageable building materials, contents, or assemblies. Our SERVPRO technicians can sometimes clean wood if it has not rotted and drywall if the colony has not eaten too deeply into it. We strive to preserve and restore mold and water damaged materials rather than remove and replace them.
Removing Mold from Surfaces
Thankfully, there is better news regarding nonporous surfaces such as metal, glass, varnished wood, and ceramic. We can use a range of cleaning techniques to scrape off the surface mold.
Damp wiping with EPA-approved products
HEPA vacuuming
Soda blasting
HEPA vacuuming uses genuine HEPA filters, which trap particles as small as 0.3 microns. Our technicians adhere to IICRC (Institute of Inspection, Cleaning and Restoration Certification) standards, which recommend cleaning in the same direction as the airflow towards the negative air machine for maximum efficiency.
Soda blasting is effective against mold on wood and brick, including exposed timbers, doors, exposed brickwork walls, and storage spaces. Soda blasting uses sodium bicarbonate to remove visible fungal growth. Our technicians direct a lightly pressurized stream of particles to the area to be treated. Soda blasting is gentler than other blasting methods such as sand or grit and offers a non-toxic and environmentally friendly cleaning option. It also helps to deodorize the area. This technique does not introduce more water or moisture into a treatment surface.
Moisture Fuels Mold Proliferation
The initial visit and inspection can reveal water leaks or poor circulation, leading to excess moisture buildup. Water is essential for mold growth; thereby, repairing leaks or enhancing circulation prevents mold development during remediation.
Drying and Discouraging Further Growth
Several species of fungus can grow inside your home simultaneously, but they all have one thing in common: They need moisture to proliferate. We dry out your home to discourage further fungal growth.
We position air movers, fans, and dehumidifiers to dry out damp areas and monitor moisture levels as we go so you can rest assured your home is thoroughly dried before we leave. Water vapor can also damage electronic devices, fabrics, furnishings, and paper products like books, so reducing the RH relative humidity in the home can mitigate water damage.
We also spray an antimicrobial agent on affected areas to discourage further spore growth.
If you are worried about mold damage, SERVPRO of Azusa / Covina is here to help. We aim to leave your home "Like it never even happened." Call us today at (626) 387-4111.